Good morning all
Hope you're all well today- and looking forward to Christmas lol!
Its time for another challenge at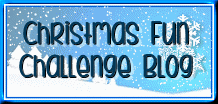 And the theme this time is
(with optional twist of a green Christmas tree)
I decided to go with the easy anything goes option and used a card I made last Christmas that has never been posted - anything for an easy life lol. I haven't had a lot of spare time lately and the few moments I had this last week I decided to make the most of the good weather and get outside to enjoy it.
I'm working a few extra hours to get things caught up - before I leave!! I only have a couple of weeks left after working as a government employee for the last 38 years - a lifetime I'm sure you'll agree. I've done all kinds of jobs over the years - from payroll to staff training, projects on an NHS specialist team and currently healthcare in the EEC. I applied for early retirement at the turn of the year and was accepted - so here I am counting down the days, its an odd feeling after all this time - but I'll be glad to go - thats if I get caught up before I go or they might not let me out the door lol.
So please forgive my absence around here - which will be followed by my holidays - but after that I should have more spare time than I've ever had in my life and I intend to enjoy filling it with my hobbies and lots of other lovely things I haven't even thought of yet
Anyway back to my card
This is what I did....
Coloured with copics and prismacolor pencils
Mounted on silver mirricard
Ribbon - vintage seambinding from Crafty Ribbons
Crystal embellie - SIC from Prima
Sentiment produced in word
With anything goes as an option there's no reason not to join us - I won't accept any excuses lol - we all need to make Christmas cards and you know you'll thank me for this nine months from now!!
Challenges I'm entering with this card
C.R.A.F.T. challenge
- Christmas
Crafty ribbons
- anything goes with ribbon
Hugs
Judith x